TEAROAD®ELPACK WTFSeries
Superior heat sealing strength
Product number
WTF-19.5,WTF-22,WTF-19.5Nonbleached,
WTF-22Nonbleached,WTF-19Lattice Patterned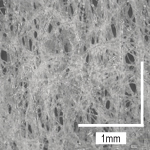 ---
TEAROAD ELPACK WTF is a paper filter having good heat seal property. Due to the strength loss after boiling is small, TEAROAD ELPACK WTF is suitable for boiling to obtain food stock. Products of a bleached type, non-bleached type, and a lattice patterned type with a high extraction efficiency are available.
---
Characteristics
Excellent heat seal property. It has a wide sealing temperature range and an excellent bag making property and reasonable price.
Excellent extraction property even with cool water and less powders passing through.
---
User
Filters for green tea, black tea, healthcare tea, barley tea, Wulong tea, Eucommia leaf tea, stock bags and others
---
Physical properties
Product
number
Weight
(g/㎡)
Thickness
(mm)
Density
(g/㎡)
Tensile strength
(N/15mm)
Air  Resistance (S)
Sealing adaptability
M.D
C.D
WTF-19.5
19.5
0.061
0.31
17.00
3.80
0.55
Heat seal
WTF-22

*

22
0.073
0.38
20.40
6.30
0.88
Heat seal
WTF-19.5Nonbleached
19.5
0.060
0.3
16.70
3.40
0.57
Heat seal
WTF-22Nonbleached

*

22
0.075
0.37
20.10
6.10
0.90
Heat seal
WTF-19Lattice Patterned

*

19
0.065
0.29
16.90
3.90
0.40
Heat seal
*

Product No.WTF22, WTF22 Nonbleached and WTF-19 Lattice Patterned are produced according to the customer's request.
* The above physical properties are measured, but are not guaranteed.
---
---