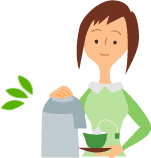 Combination of the various products of the different characteristic,such as mesh, non-woven fabric and paper, and their unique shapes fullfill all kinds of requirements.
---
What's GreenPla

"GreenPla®" is a registered trademark of the Japan BioPlastics Association (JBPA), which is a N.P.O. engaging in study, research and development to promote commercialization of plastics which are made from non-petroleum resources, and are biodegraded. Yamanaka Industry Co., Ltd. is a member of the JBPA "Mark".
For more details, please access the JBPA homepage.
---
---