Product Development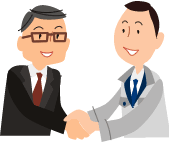 Yamanaka Industry is proud of its status as a pioneer in the area of filters for drinking use.
Using the experience and ideas that we have accumulated over the years, we have been fortunate to had handled a vast number of clients' requests that have resulted in the realization of numerous products, including our high-performance woven mesh filters, Tetrahedral bags, and "DRIP COFFEE".
At the same time, we have applied the knowledge concerning the textiles to other kind of clients' requests, such as the production of various wrapping materials and artificial flowers. Based on our mentality that "There's nothing that can't be made," we hope to continue being an organization capable of meeting our clients' expectations.
---
Materials Development
Through collaborating with materials manufacturers and partner companies, we continue to address the development of unprecedented products. These efforts have resulted in our unveiling the likes of "COFFEE MIRACRON," the industry's first nonwoven filter especially for coffee use; "SOILON," a biodegradable woven mesh filter; and "Lessteel," a non-metal wire.
---
Development of Processed Products
Using the production equipments developed in-house, we make products planned through flexible concepts and ideas a reality. For materials for which processing is believed to be difficult, we identify the optimum processing method available using the techniques and know-how that we have build up since our founding.
---
Development of Original Products
Yamanaka Industry is also committed to the development of original products for our clients, such as "DRIP COFFEE", tea bags, and wrapping materials. With the concept of "designing the client's image" planted firmly in mind, we present product proposals to the client that include layout, design and the optimum materials, and work side-by-side with the client to further the development process. During the development process, we do our utmost to ensure that our clients themselves incur the least amount of new capital expenditure. Process Leading to the Development of Original Products
---
---