TEAROAD®SHARP
Polyester woven mesh filters that include products accommodating heat sealing
| | |
| --- | --- |
| Product number | 4817,4825,5100 |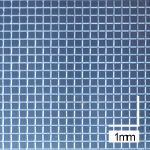 ---
TEAROAD SHARP is a polyester filament woven mesh filter. Due to its excellent automorphic property, it is suitable for making tetrahedral filter bags. You can really enjoy seeing spreading and jumping of tea leaves in the bag and the genuine taste and flavor of tea.
---
Characteristics
Not generate hazardous gases such as dioxin when burnt. It decomposes into carbon dioxide and water.
Not elute substances and is free from environmental hormones. Then it is friendly to human and environment.
Extracts the real taste of tea.
Both ultrasonic and heat sealing is available in Product No.5100.
Can be used into many kind of filter bags because of its excellent automorphic property.
---
Uses
Filters for green tea, black tea, healthcare tea, herb tea and herbal medicines and also for rapping, packaging etc.
---
Physical properties
Product number
Mesh count
Filaments/inch
Open space ratio(%)
Remarks
Sealing adaptability
4817
100
65
Soft Type Environment-moderate
Ultrasonic seal
4825

*

100
65
Hard Type Environment-moderate
Ultrasonic seal
5100
100
65
Environment-moderate
Heat seal/Ultrasonic seal
*

Product No.4825 is produced according to the customer's request.
* The above physical properties are measured, but are not guaranteed.
---
---