From our economic filters for tea to our COFFEE MIRACRON product dedicated to extracting coffee, our diverse line up of Nonwoven Fabric Filters meets a variety of needs.
---
TEAROAD®SOILOM®NW
TEAROAD SOILON NW is a filter made with the biomass material known as polylactic acid, the base material of which is plant starch.
Burying this product into the ground after use causes microorganisms to completely break it down after being hydrolyzed into shoter fragmen.Such is the nature of this filter for beverage use created with mankind and the environment as a top priority.
TEAROAD SOILON NW features a more attractive price than the woven mesh filters in the SOILON series.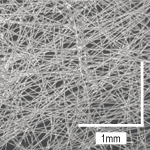 ---
TEAROAD®EIGHT
TEAROAD Eight is made of special polypropylene fibers and has excellent uniformity.
TEAROAD Eight is odorless and pure material, therefore has excellence in extracting fine taste and flavor of green tea.
Due to its ultrasonic sealable property, rupturing of tea bag caused by some tea leaf powders among sealed area of bag can be avoided.
| | |
| --- | --- |
| Product number | 9513,9515,9518,9520,9522 |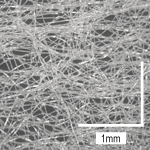 ---
TEAROAD®SEVEN
TEAROAD SEVEN filaments have sheath-core structure; strong polyester in the core and soft polyethylene in the sheath.
Consequently, maximal features of both materials are achieved.
TEAROAD SEVEN can be applied to both heat and ultrasonic seal. Heat sealed bag has especially good seal strength.It is most suitable for decocting purposes.
| | |
| --- | --- |
| Product number | S0203,S0303,T0153,T0203,T0303,T0403 |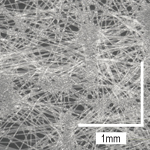 ---
TEAROAD®ELPACK G SERIES
---
COFFEE MIRACRON®
COFFEE MIRACRON is a high-functional filter made of ultra-fine fiber nonwoven fabrics.
COFFEE MIRACRON can get clear coffee liquid without any oily material on liquid surface. You can enjoy pure coffee taste.
COFFEE MIRACRON is also suitable for those which contain fine powder.
| | |
| --- | --- |
| Product number | YM-22D,YM-20D,YM-27E |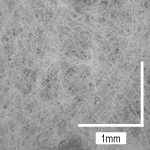 ---
Q&A
Are your nonwoven filers bleached?

The white coloring of our nonwoven fibers comes directly from the material themselves. No bleaching of the filters is conducted.
What kind of features does COFFEE MIRACRON have?

COFFEE MIRACRON boasts six times the fiber density of paper fibers, allowing it to trap the likes of fine coffee power and excess oil content that conventional paper and Nonwoven Fabric Filters are incapable of filtering.
---
---