COFFEE MIRACRON®
A coffee-specific filter made with ultra-fine fibers
| | |
| --- | --- |
| Product number | YM-22D,YM-20D,YM-27E |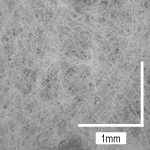 ---
COFFEE MIRACRON is a high-functional filter made of ultra-fine fiber nonwoven fabrics.
Using COFFEE MIRACRON, you can get clear coffee liquid without any oily material on liquid surface. You can enjoy pure coffee taste.
COFFEE MIRACRON is also suitable for those which contain fine powder.
---
Characteristics
Excellent extracting property.
Remove undesirable oily material.
No coffee powder pass through into coffee liquid.
Can extract excellent taste, aroma, color tone of pure coffee.
Superior in processabirity, dimensional stability,sealability,hot-tac property.
---
Uses
Suitable for coffee and those which contain fine powder.
---
Physical properties
Product
number
Weight
(g/㎡)
Thickness
(mm)
Tensile strength
(N/5cm)
Elongation (%)
Sealing adaptability
M.D
C.D
M.D
C.D
YM-20D
20
0.145
69.3
19.1
15
31
Ultrasonic seal
YM-22D
22
0.172
65.9
17.4
16
22
Ultrasonic seal
YM-27E
27
0.155
57.4
20.5
14
18
Heat seal/Ultrasonic seal
Material : Polypropylene,Polyethylene and Polyester
Measuring Method : By test method for synthetic long -fiber non-woven fabrics of Japan Chemical Fibers Association.
* The above physical properties are measured, but are not guaranteed.
---
---