TEAROAD®SEVEN
An olefin series spun-bound nonwoven fabric made with two-component fibers
| | |
| --- | --- |
| Product number | S0203,S0303,T0153,T0203,T0303,T0403 |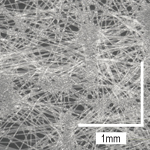 ---
The filaments of TEAROAD SEVEN have sheath-core structure; strong polyester in the core and soft polyethylene in the sheath.
Consequently, maximal features of both materials are achieved.
TEAROAD SEVEN can be applied to both heat and ultrasonic seal. Heat sealed bag has especially good seal strength.It is most suitable for decocting purposes.
---
Characteristics
Have heat sealing property on both sides ,and offer strong seal strength.
Two touch types; soft (S) and hard (H) types are available in order to fit customer's requirements.
Superior fabric strength makes the product suitable for use as a stock bag or together with bath additives.
---
Uses
Filter for food stock bags, herb bags, bath additives and others
---
Physical properties
Product
number
Weight
(g/㎡)
Thickness
(mm)
Tensile strength
(N/5cm)
Elongation (%)
Sealing adaptability
M.D
C.D
M.D
C.D
S0203
20
0.17
65
30
60
67
Heat seal/Ultrasonic seal
S0303
30
0.23
110
50
70
70
Heat seal/Ultrasonic seal
T0153
15
0.10
60
30
53
50
Heat seal/Ultrasonic seal
T0203
20
0.12
78
40
55
53
Heat seal/Ultrasonic seal
T0303
30
0.15
127
68
60
60
Heat seal/Ultrasonic seal
T0403
40
0.19
185
78
63
60
Heat seal/Ultrasonic seal
Material : Polyester, Polyethylene
Measuring Method : By test method for synthetic long -fiber non-woven fabrics of Japan Chemical Fibers Association.
* The above physical properties are measured, but are not guaranteed.
---
---