Forward-looking initiatives geared towards people- and environment-friendly product development
The creation of products blooms forth from the challenges at hand.
The triangular pyramid-shaped Tetra-model tea bags that have become such a natural part of our everyday lives were both conjured up and developed by Yamanaka Industry. Up until then, tea bags were flat and made of paper, and were not capable of bringing out the true flavor of tea due to the scent of the paper lingering on the tea itself.
As participants in the textile industry for years, we at Yamanaka Industry came to the conclusion that using nylon textiles as the material to make tea bags would produce a delicious cup of tea, and initiated development efforts towards that end. What resulted after bouts of trial and error was the completion of a mesh filter that we dubbed that "TEAROAD." Different from paper and nonwoven filters, the TEAROAD's uniform opening allows for superior extraction performance. Furthermore, we also devised the shape of the filter in a manner that enabled the tea leaves inside the tea bag to further expand. That shape is the Tetra-style tea bag, the triangular space of which allows tea leaves to fully expand and makes for the extraction of even more delicious tea.
During that time that we were working on the development of these product materials and forms, an extremely high-priced machine was necessary for our customers to produce tea bags with a tag and string attached to them. However, by supplying our customers with finished filters that had tags and strings attached to them, they became able to produce tea bags with tags attached through the use of a comparatively inexpensive machine.
When TEAROAD was initially released, its price was approximately ten times that of paper. With the ratio of paper used in filters for beverage use versus products using a different material at 97:3, there was an overwhelming amount of sentiment that TEAROAD would not sell. Even so, armed with the conviction that the market would surely accept products if they were worthy ones, set out to challenge the status quo with the goal of enabling people to casually enjoy high-quality tea. The many mesh and Tetra-style teabags that currently line store shelves are a testament that the challenge we took was the right one.
---
We flexibly cope with diverse needs.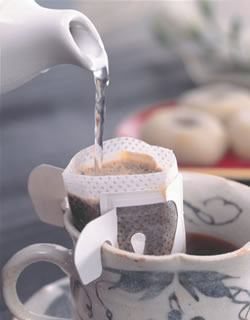 Our development efforts for filters intended for coffee drinking began with comments from our customers along the lines of: "If you can develop a filter for tea, surely you can develop one for coffee as well." Armed with the intention of answering this call, we worked in conjunction with a materials manufacturer on repeated experimental efforts that would culminate in the successful development on "COFFEE MIRACRON," a nonwoven filter incorporating ultra-fine fibers with six times the density of paper fibers. This new technology kept fine coffee powder from passing through while allowing the excess oil component contained within coffee beans to be removed.
While coffee bags that incorporated COFFEE MIRACRON would go on to become a hit, the call for a simple means of enjoying a genuine cup of coffee grew strong amongst our customer. This led us to develop and release a coffee bag that made the preparation of drip coffee possible just by being placed on one's cup.
The subsequent synergy achieved between these coffee bags and COFFEE MIRACRON would enable the convenient enjoyment of the flavor of coffee as it was meant to be, without any discordant taste.
Furthermore, we engaged in the development of various forms of drip bags, including those employing the top-rest system, in line with the demands of our customers. In addition to fully dedicating ourselves to bringing forth products for exclusive customer use, we shall also work towards the acquisition of industry property rights surrounding finished products to ensure that our customers can feel secure in using those products.
---
Maximizing the effective application of our technical prowess and networks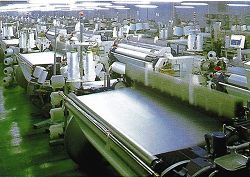 Reflected in our product development efforts at Yamanaka Industry are the techniques and know-how that we have cultivated since our establishment as a Nishijin brocade manufacturer in 1950. Our know-how as a textiles processing manufacturer has also yielded the development of filters using a variety of fibrous materials. As an example, take our woven mesh filters made using nylon and polyester, which came into being as a result of our experience in ribbon processing. Additionally, the ultrasonic techniques that we applied in cutting the lining for traditional Japanese clothing are now an irreplaceable part of the process used to manufacture filters for beverage use. Furthermore, the in-depth affiliations that we have with textile and other materials manufacturers, partner companies and our customers, which are founded on bonds of trust, are supplied towards the absorption of new techniques and the joint development of products. Yamanaka Industry will continue to take full advantage of the full amassment of technical prowess and broad scope of information in its possession as we strive to place an even greater emphasis on what our customers have to say. Look forward to what our future product lineup has in store.
---