Some things change. Customer satisfaction as the basis for our happiness.
Helping to enrich lifestyles through our products.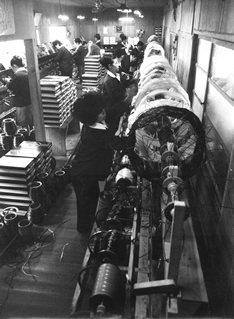 The theme we espouse at Yamanaka Industry is "Continually developing things that do not yet exist in the world." Nothing in the world please us more than when a product that we developed with all of our heart and soul serves to dispel a variety of everyday problems, and effectively contributes to enriching people's lifestyles.
When our organization was founded in 1950, Yamanaka Industry had been a manufacturer of Nishijin brocade . It wasn't until the 1980's that we initiated the manufacture of filters for drinking use. For us to flexibly accommodate changing times, taking on a brand-new field was an absolute must. We also had support in the form of the deep knowledge regarding textiles and the unsurpassed techniques that we cultivated since our founding through the manufacture of Nishijin brocade. This was not all, however. The sentiment of wanting as many people as possible to be able to comfortably enjoy a genuinely tasty cup of tea was also present.
At the time, no machine existed for the purpose of manufacturing filters for drinking use, which were made with completely brand-new synthetic fiber materials. Prior to asking a machine manufacturer to build a specialized device, our founder, Kaichi Suzuki, had to actually make the machine by himself first. Despite this hurdle, it was the joy he had in applying his know-how and ideas to the creation of something new, and his dream that the resulting product would enrich the lifestyles of others, that enabled Suzuki to proceed full steam ahead with development.
We will also continue to value the ability to make dreams based on the idea of "It would be nice if I had something like this" into reality, and actualize our techniques and ideas in our manufacturing efforts.
---
Taking in exactly what the customer has to say.
Let us take care to create every products eagerly
Let us devise methods to drives us forward.
Let us become an enterprise whose employees and concerned persons attain happiness.
The above represent the business philosophy that we espouse. At the time of our organization's founding, all of our products were hand-made. While the environment surrounding manufacturing has changed significantly alongside the passage of time, we continue today to strongly uphold the same spirit as we endeavor to enhance the quality of our products.
The utmost value that we place on communication with our customers is also strictly for the purpose of providing them with increasingly better products.
Listen to what the customer has to say in all earnest and identify the issues among that information that should be addressed.
Be a perpetual receptacle for new information and hone our techniques.
Be diligent in conducting research and exercise ingenuity.
We believe is that without these three tenets, it is impossible to develop the kind of products that our customers will be satisfied with.
In order to give our quality assurance efforts definite form, we acquired certification under ISO9001 international quality standards in February 2001. Going forward, we will continue to work towards achieving an even higher plane of quality and elevating levels of customer satisfaction.
---
Do not let up in seeking to evolve and make the happiness of everyone a foremost priority.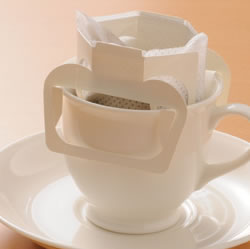 We are of the belief that providing products with enhanced levels of quality yields satisfaction on the part of our customers and the individuals who use those products. In turn, this doubles as contributing to the creation of a more enriched society in our view. Taking it even further, creating products that have that kind of effect link not only to our personal satisfaction, but also to that of the innumerous individuals that lend themselves to the production process.
Depending on the idea of "universal design," meaning that everyone and anyone should be able to comfortably use the product, the "Drip Coffee W" series that we unveiled in 2008 represented a new product infused with meticulous care and elevated levels of quality. Using a dual-layer filter to envelop the coffee within, there is no need to cut off the filter. By simply pulling the handles on the product outward, setting it on your cup and adding hot water, you can enjoy a cup of delicious coffee. This product also eliminates the need to worry about coffee power spilling out upon adding too much hot water.
---