Forward-looking initiatives geared towards people- and environment-friendly product development
Forward-looking initiatives geared towards people- and environment-friendly product development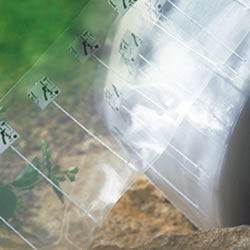 Future product development efforts will need to involve proper consideration of functionality and safety properties not only during use, but after use as well. Given the limited quantities available of petroleum and other resources worldwide, resource conservation is an issue that we must inevitablely face. It is also vital that we give due consideration to the issue of waste disposal. Failing to earnestly address these issues at this stage will likely result in the earth's resources drying up sooner or later, creating an irreparable problem for the planet's environment in the process. Environmental preservation is closely intertwined with ensuring the safety of human lives.
At an early stage, Yamanaka Industry tackled the development of environmental circulation type filters for drinking use that are derived from plants, and were the first to introduce the world to "SOILON," which we created from a biomass material (polylactic acid) whose basic material is plant starch. The properties of SOILON are such that when it is buried into the ground, it completely broken down by microorganisms following hydrolysis. Furthermore, the product serves to contribute to the development of a sustainable society due to plants being the basic material.
---
In Pursuit of "Safety" that Remains One Step Ahead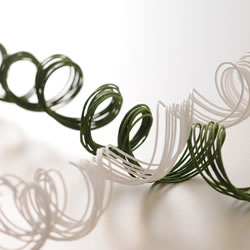 In recent times, the heightening in awareness regarding safety had been accompanied with more stringent requirements being placed on businesses with regards to legal compliance. We at Yamanaka Industry take this one step further by complementing our compliance with the law with the implementation of unique initiatives based on the "HACCP spirit."
As an example, in the area of filters for drinking use, we employ black squid ink on the portion of the product on which hot water comes into contact with when extracting coffee and tea. Additionally, in the area of wrapping materials, we developed "Lessteel," a plastic material that retains its shape, as a substitute for the wire portion used in ribbon ties. Lessteel retains all the necessary functions of the original material while simultaneously offering enhanced safety.
---
Acquired Certification under "KES," the Environment Management System Standard.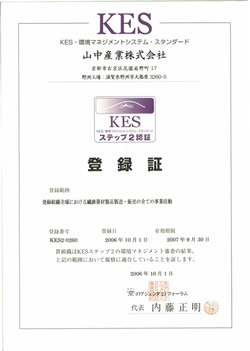 In order to further company-wide initiatives to carry out clear objectives established with respect to reducing the burden on the environment, in 2006, Yamanaka Industry acquired KES/Environment Management System Standard certification. "KES" refers to an environment management system standard devised, reviewed and certified by the NPO "KES Environmental Organization." A significant number of businesses and administrative bodies apply this certification as a standard for Green Procurement, and as of the end of June 2009, over 2,600 businesses and organizations across Japan have acquired KES certification. The KES standard itself consists of two steps: Step 1, which involves establishing an Environmental Declaration and devising a plan for execution, and Step 2, which involves the creation and execution of a environment management system on a per-item basis. We at Yamanaka Industry acquired certification for Step 2. Given that it bore the same requirements as ISO14001, while it was necessary to pass a rigorous screening process, it gave us an opportunity to revise the way we work, and we took advantage of the chance to identify problematic areas and reduce costs. In order to ensure that our irreplaceable planet is handed down to later generations with care, we will continue to intensify our focus on environment-oriented initiatives going forward.
---